We had a chance to have a conversation with two makeup artists in Southern California. While their backgrounds are extensive with their work covering fashion, editorials, and film, this article will provide their advice and expectations when it comes to working with a makeup artist (MUA) on your wedding day.
Julie Patel @thelookbyjulie
Makeup has always been Julie's passion, and she would spend hours browsing the aisles of Sephora. She has been doing makeup professionally for over three years. She is also a licensed Esthetician If she's not behind the scenes of a shoot you can find her at her Beauty Bar: 3302 Mulford Ave, Lynwood, California 90262
Meredith Murdock @meredithmakeupdesign
Growing up, Meredith enjoyed using makeup as a tool to feel empowered and is now entering her 10th year as a Makeup Artist. During her off time she also gives back to the community with the program: Show Yourself, a workshop which explores makeup to find self-expression and self-esteem, at Covenant House California.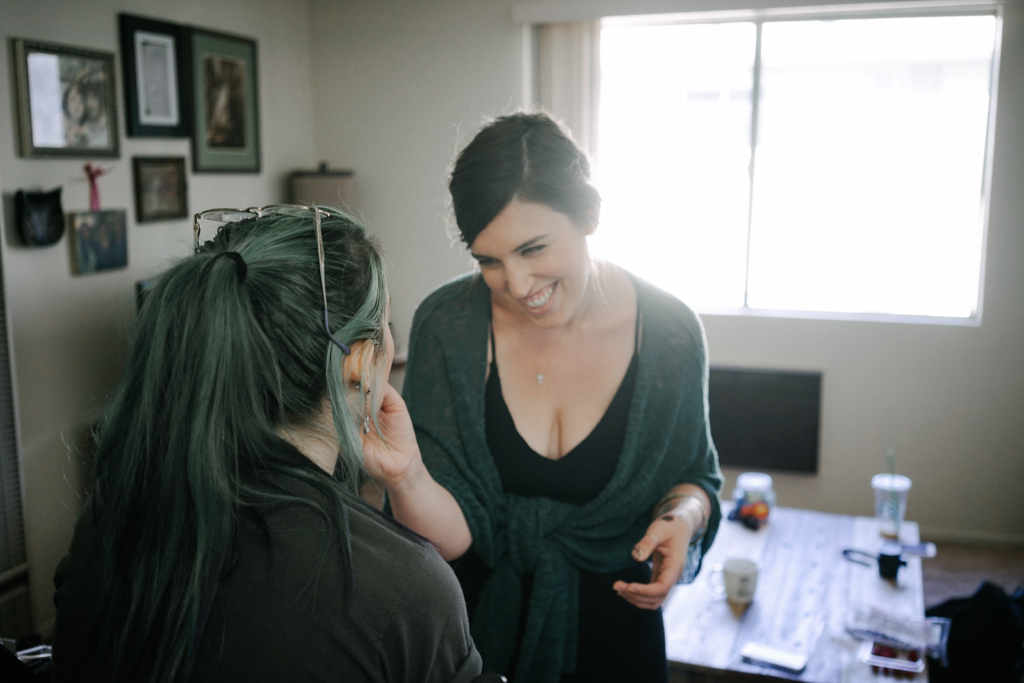 THE SEARCH
We believe that you should find an MUA that is passionate about beauty and makeup. They should love their work because they will be the one you'll with at the start of the day. Your hair and makeup artists will set the tone for the rest of the day, so if you can find someone that is excited to work with you, that energy in the morning will bring joy to the bridal room. You need a makeup artist that understands and is open to your vision. They should make you feel like your absolute best self by providing their services.
Hair and makeup artists are becoming undervalued despite the amount of education they have put into their work and their selection of high-quality products. Julie shares that you should be wary of hiring people without professional licenses. Check out their website, Facebook, and Instagram to see examples of their work and testimonials from recent clients. Make sure that they are providing you a contract.
Meredith explains that you shouldn't forget about the associates that are working at the counter of stores like Nordstrom and Sephora. They do make up all day long with a variety of people, so they have a wealth of knowledge and experience. If you're looking for a makeup artist and have no idea where to look, go up to a brand that you like and ask if they have a makeup artist there and tell them that you're getting married. You can share that you're looking for makeup for your wedding and ask for a trial to see what works for you. Many makeup artists started in cosmetics. Don't be afraid to do trials with a couple of people.
Julie mentions that if you have traditional outfits or headpieces, it would be best to find an HMUA that's familiar with those items. Most artists will know how to prep the hair for a veil or tiara. We've seen that Indian weddings have the Tikkas and Jhumars, Vietnamese weddings have the Khan Dong, and Indonesian weddings have Suntiang. If there are any traditional hair ornaments or statement jewelry, it's always helpful to let your HMUA know in advance.
Meredith mentions that during your quest for an artist, "Don't judge a book by its cover." Selfies and everyday makeup are not always the best reflection of their work. Meredith mentions how people often forget that she does makeup because she chooses not to be all dolled-up every day. If someone has great selfies on Instagram, that does not mean that they would be just as good applying that look onto someone else. Search for samples of their work on actual clients.
THE BOOKING PROCESS
While Julie and Meredith have gotten last minute bookings, it's always best to book as far in advance as possible. It's not uncommon to book a year ahead.
They both recommend on getting a trial or a consultation so they can be familiar with your skin. It makes the process on the day of the wedding a lot easier. The makeup artist can see how colors are going to wear on your skin tone in person. It's a chance to explore your options and an opportunity to test more than one look. You can get a sense of how comfortable the makeup feels on you and how it lasts throughout the day. Julie emphasizes that it's also a great chance for the makeup artist get to know you as a person and see if you work well together.
Meredith states that trials should be three months or six months in advance so that if any changes arise you can address them early. Even if you end up only having time to book a makeup artist a month before your wedding, still take the trial. Above all else, having a better understanding of what your ideal look is early on frees up more time on your wedding day. Give yourself enough time.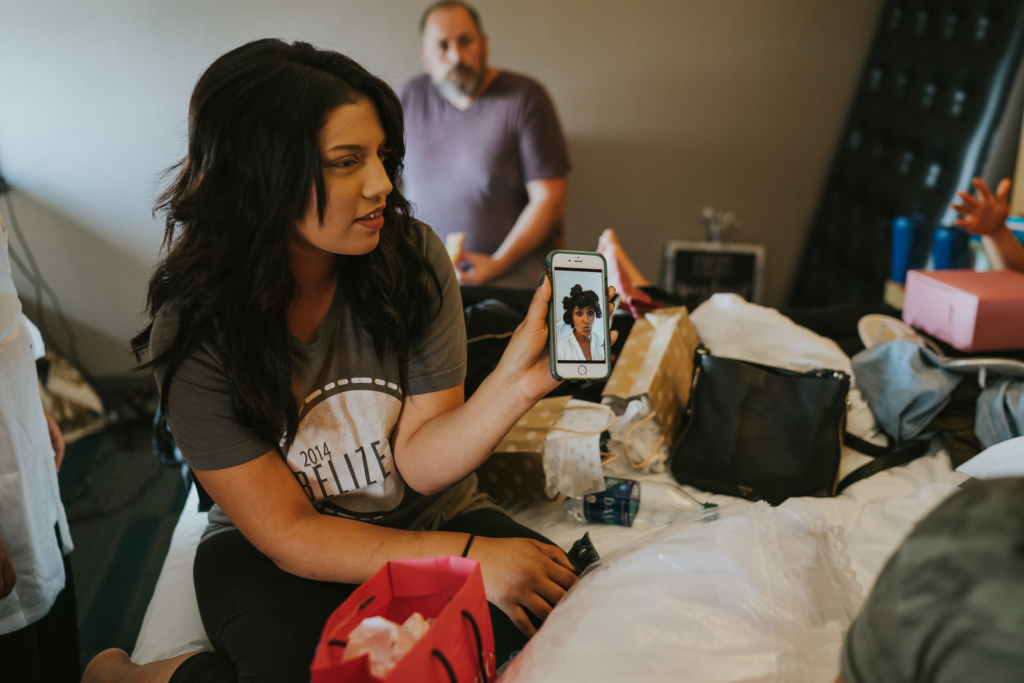 If you have pictures or points of inspiration, it can be a great visual tool to communicate what you'd like to achieve. Be aware that the person in the picture may not have the same face shape or skin tone but a good makeup artist will be able to achieve the same look in a way that's flattering to your face. Sharing the setting, colors, theme, or tone of the wedding can be helpful to guide your artist. Your MUA may have images and points of inspiration as well once you've shared the description of your wedding.
Since Julie is also an Esthetician, she would be able to recommend personalized products and give tips on exfoliation, tone, or masks to add to your skincare regimen. However, you should not drastically change your skincare regimen right before your wedding. Everything you do should have been tested a few months out. Another reason why you should try and get your trial and consultations months in advance.
A tip that Julie taught me during the interview is that you should not wax, shave, or have laser treatments right before your wedding. Try to push those harsh treatments a week before your event to minimize your chances of breakouts. Meredith shared personal stories of unexpected breakout or rash development from testing new products, and you wouldn't want to risk that right before your wedding. Be kind to your face and body in the week leading up to your wedding.
Meredith mentions that if you've done it before and had a great experience, get hydrating facial two weeks before. Or at least find a hydrating eye cream a month before your wedding. You're usually wearing a lot of concealer with your makeup. By keeping your eyes moisturized, your skin will take the makeup better, and it will sit nicely throughout the day.
Once you're ready to book there's typically a contract required that states the terms of booking and the expectations for both the Make-up Artist and the Client. Make sure you read the contract and send it back to them before someone else books for the same date.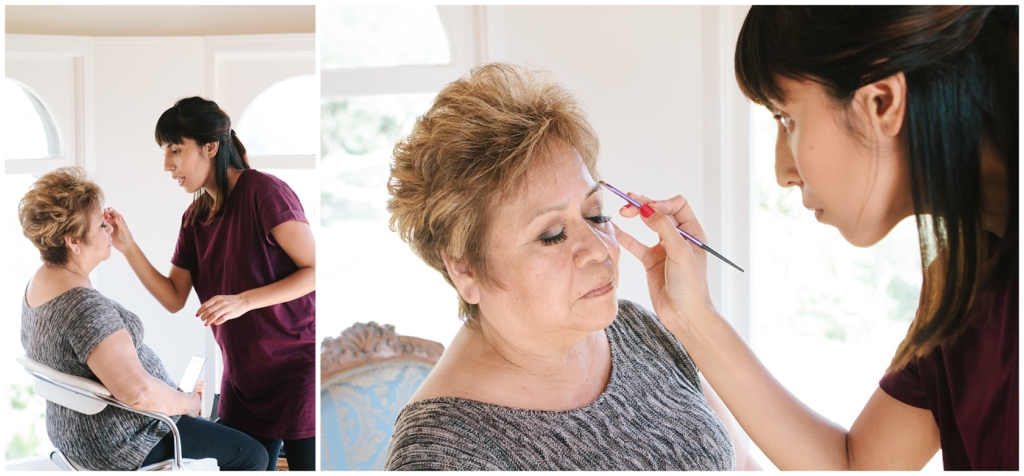 THE DAY OF THE EVENT
The hair and makeup artist would usually require a table in a clean designated. Meredith explains that cleanliness is highly important. You want to make sure that your artist is cleaning their brushes between sessions and that your bridesmaids are not moving or using their items without asking.
Ensure that you have a big enough space that is bright with plenty of outlets. It's best that your artists are not to be in the middle of the chaos. Not only is this helpful for your HMUA but your Photographer and Videographer would appreciate it as well.
Julie recommends that the bride aside 2 hours for hair and makeup. Roughly 45 minutes to an hour for each step. If you are booking your makeup artist for your bridesmaid and mothers, Meredith recommends setting aside at least 30 minutes for each additional person. It also helps to have a prediscussed aesthetic so that your bridesmaid's makeup match and is cohesive with the theme, speeding up the process immensely.
Julie and Meredith explain that they are happy to work on more people, but it would be helpful to know in advance. Talk to your makeup artists if the start time needs to be adjusted or if you think you'll need to hire a second MUA to help. Usually, the artist will not compromise the schedule for the last minute add-on. The focus should be the bride and those pre-scheduled.
The best way to prepare for yourself as a canvas is to come in with dry hair, with your face freshly washed, toned and moisturized. Exfoliate any dry areas the night before. Your face should be bare and without makeup.
The client should not have to provide any of their beauty products. However, if you have a particular requirement or allergy that is understandable and should be discussed during the booking process.
Meredith recommends that as a bride, you should use individual lashes because they're so comfortable when compared to a full strip and you won't feel them at all. Individual lashes look natural while being practical for a day of crying and dancing. You can still make them glamorous and super full. Your makeup artist can also show you the best way to remove them at the end of the night.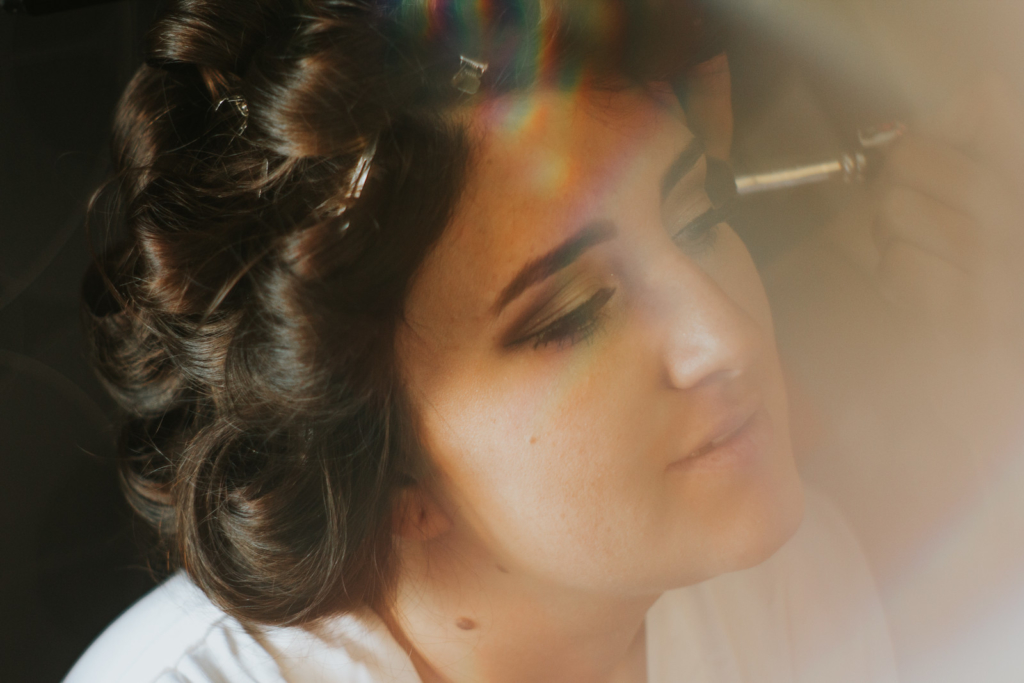 THINGS TO AVOID
Don't look in the mirror the whole time or nitpick throughout the process. Trust your artist and wait for the finished result. On a similar note, don't keep your nose in your phone. It's difficult to work on your face if there are things in the way. Pass it on to a bridesmaid and let it go. Take this time to be pampered for your wedding day.
Changing your look last minute on the day of is not recommended. If you're having doubts about your look, contact your makeup artists early and perhaps schedule another trial. Leaving it until the day of can hold up the process. It's best to make your decision and stick with it, so it is one less thing you have to deal with the day of the wedding.
Meredith mentions that you should be aware of people pleasing when working with your makeup artist. Be very direct and speak to your mind because your makeup artist wants to make you feel confident and beautiful. Some clients are not familiar with the language of makeup, but your MUA should have the patience to guide you to get you to feel comfortable in saying something. As a professional, they understand that makeup can be subjective and won't take critiques personally because they're there for you.
TOUCH UPS
Your makeup should last the whole day if applied correctly. But if you'd like to keep your artist around for a piece of mind during your formal photos they can typically offer an hourly rate to stick around and work alongside the media team. As photographers and videographers, we love having the hair and makeup artists around.
Your MUA will usually provide a small touch up kit. Julie packs her kits with loose powder, a container of lipstick, and blotting sheets. Meredith packs puffs and powder, lipstick, Q-tips and Bobby/Safety Pins. She also keeps additional and upgraded kits if other members of the party need them as well.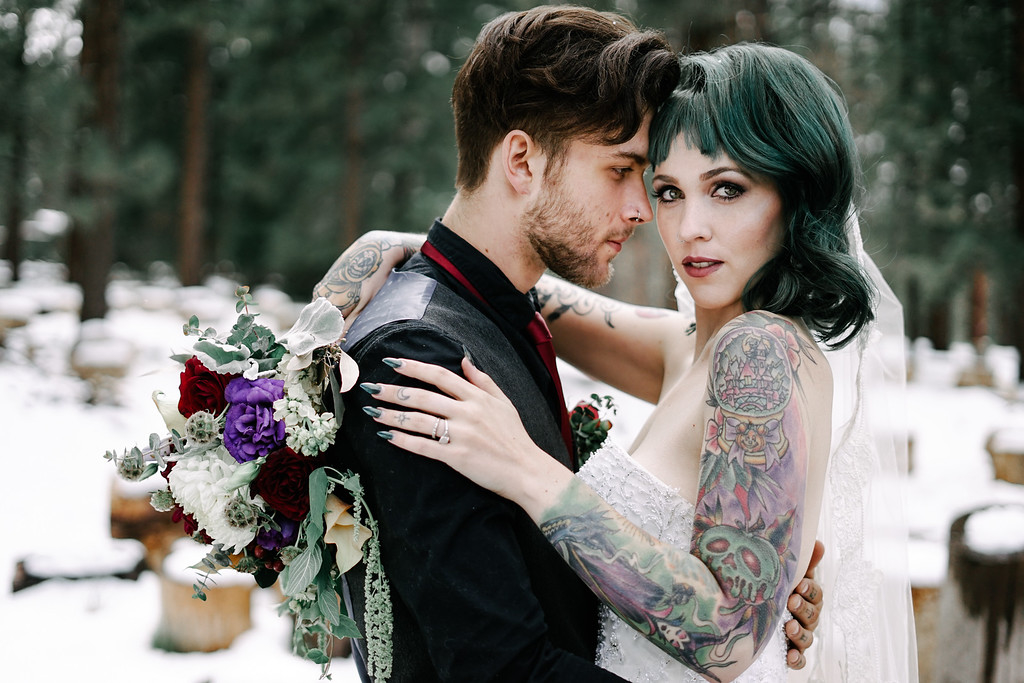 BUILD A RELATIONSHIP
I suggest that you take the time to find a professional artist that you can build a relationship with so that they could help from the engagement, wedding, maternity, family sessions, all the way up to your retirement party.
Julie explains that an experience HMUA will guide you through the entire process. Even if you feel that you tend to be indecisive or unsure of the final look you're going for it's the MUA's responsibility to make you look fabulous. With the right kind of artist, it can be a life learning experience. She loves to educate and share with her clients so that they can use this new found knowledge beyond their wedding day.
Meredith emphasizes "don't be afraid to ask questions." Makeup isn't just for makeup artists and beauty gurus. Your makeup should bring out the best version of yourself, and it's really about how you want to express yourself on that day. Your wedding is the most exciting day ever, and you would want to look and feel your best. How can you take the best care of yourself on this day? Feeling your best is what everyone wants so relax and enjoy yourself!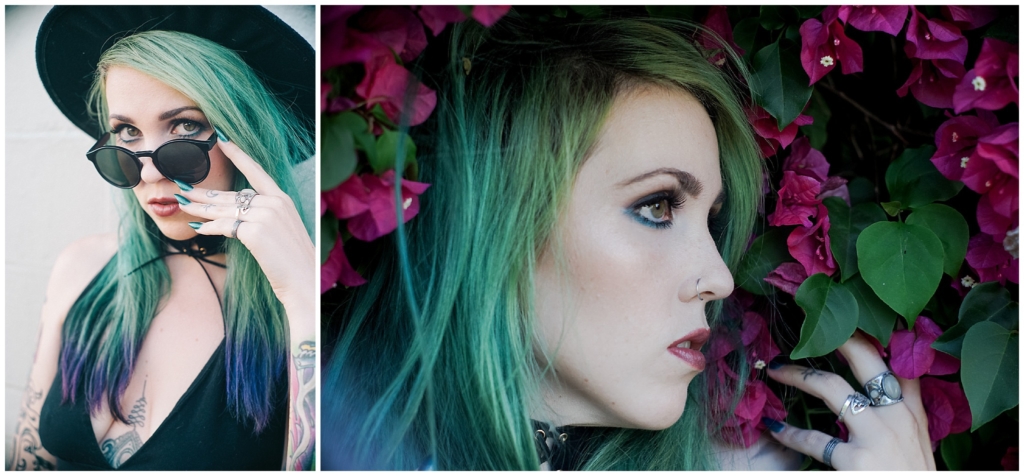 OVERVIEW
We know that most brides have never hired a makeup artist before their wedding. The search can seem overwhelming, but the payoff could not only be a great look for your wedding but it's a chance to get personalized tips that you can carry for a lifetime. The common theme of advice in this article is to start your search early. It's a chance to learn more about yourself and your preferences. We hope that you enjoy the journey and feel beautiful on the wedding day.